OFFICIAL LOCKING PIONEERS WEBSITE of the street dance pioneers

                       OVER 10 years we have served your Locking educational needs
THE CHRONOLOGICAL ORDER, follow the progression & Evolution
LockerLegends "10 years in revue PAGE"
THE ART-FORM & CULTURE OF A STREET DANCE IS MUCH MORE THAN THE MOVES THAT CREATE THE DANCE ITSELF. THE ORIGINAL DANCE STYLE CALLED LOCKING HAS DEEP ROOTS WITHIN A ERA , WHICH MENT SO MUCH TO THE UNITY AND DE SEGREGATION OF A PEOPLE…READ…LEARN and understand what brought about the evolution of words like soul and funk.. Understand the DANCERS that contributed to the Original foundation of this dance & opened the door to what exist today as "THE STREET DANCE OF LOCKING"  Help us solidify this from just a dance into a ART-FORM to be passed down to future generations !
IT IS HERE …"LISTEN LEARN DISCUSS AND GROOVE EVERY SUNDAY AT 12 noon pst
"The Rabbit Hole"   a complete review of the events in Review of the lastFunk & Soul era years..
FLAME ON RADIO Presents  "
Groovin with the GoGo Brothers"
"you wanted hear the truth… You can't handle the Truth"
Old school music, with both schools phylosphy
Letter from the editor:
Although I have been the primary web keeper.when this site first started it was not an individual project , it was a combined effort of several people to finally expose a different perspective, Many of their request to preserve much of the lost history promoted ,
myself (Og Skeeter Rabbit), Greg Pope, Tony GoGo, Steve Crane, Greg Dandridge, Guy Evans, Arnetta Johnson, Leo Williamson, Tito Collins, Mike Frenks, Buddy Lombard,Elroy Skiffer and several others other generations, with a vast knowledge of the dance and its era to come together to produce this information, which comes from a variety of personal experiences and research

……..
…
James Higgins
" Og Skeeter Rabbit"
"2003" we saw very little understanding of the pre Lockers era, and the people who contributed to this era
TODAY…more original Lockers & groups have been exposed and their stories and contributions have been documented through our site, Thank you all who have read, enjoyed and benefitted from the site
What up to all who respect dance and the true historyThat goes with itI would like to give Big Props
To OGSkeeter Rabbit of theOriginal GoGo brothers.Thank you for opening the Locker legends web site
Of information and for bringing as many lockers and dancers together giving us The real truth of how this
Movement in our culture Came about and what it stands for.Once we had a dream in Watts California and
Now a beautiful memory Of a dream fulfilled thanks To your diligence and the
friendship of our brother In Russia Vovan. We luv you
AlwaysThanks Mr Higgins and
Always love and Respect.Your Brother alwaysTony Gogo.
we have spent many hours & helped many along the way & now would ask all who have benefitted & enjoyed our site to take a few moments post a comment, about what the site has meant to you on our Facebook Group Page,  join our Lockerlegends Facebook page
Then just ask to join the Lockerlegends /Lockers United Group, we would love for you to share what you think about our website there
____________________ENJOY THE WEBSITE_________________________

                       10 years we have served your Locking educational needs
HOW DID THIS HAPPEN?
 WHAT INSPIRED THIS DANCE?
IS IT A MOVEMENT OR JUST A DANCE ?
"YOU CANNOT KNOW WHERE YOU ARE GOING UNLESS YOU KNOW WHERE YOU BEEN"
unknown authors quote
The unity of dance and Locking was expressed at the 1972 Watts Stax concert
************************************************************************
The social connection
Independent record companies such as Staxx, Motown and The Sounds of Philadelphia echoed the sounds which reflected the unity, pride and the struggles of our communities. They exposed the soulful harmony of well choreographed vocal groups and gave us the direct heart pounding inspirational music and lyrics of various bands. During these times, the struggle was revealed through the social conscious music sung by artists like Marvin Gaye, James Brown,Curtis Mayfield andIssac Hayes.
The inner city communities of the United States were marked with racial and social unrest during the civil rights movement of the 1960's.  This generation saw leaders such as Malcolm X, Dr. Martin Luther King, Robert Kennedy and John Kennedy assassinated and, those times and struggles were reflected in this music.
In that time There was also a new generation of early rap and revolutionary poetry that was put to beats by groups such as the Last Poets and Gil Scott Heron. During those times, the rhythmic freedom in the African American community could only be found in the inner cities segregated night clubs or in community house parties. The turn of the decade brought about a pride in the accomplishments made during the civil rights struggles.
The BOLD generation of the 1970's was now free to express itself. SOUL TRAIN became the portal and revealed to the world its' creativity. Funk music spearheaded the charge and Afro American youth boldly displayed their pride, with large Afro hair styles and colorful creative clothing. During this time, an art form was born. This art form created a subculture which has influenced and transitioned the eras of Funk, Disco and Hip Hop through three decades. Yes! The art form first known as "Campbellocking"
and now simmply as LOCKING
******************************************************************************
***NEW EDITORIAL***** DANCE ENLIGHTENMENT … 
A MUST READ !!
written by Og SkeeterRabbit on 5/5/2010
Our New Generation has been inspired by the old, However understanding the mission and resposibility to pass on the movement with respect is the challenge issued by the YOUR old school today,Back in the day social poets Gil Scott Heron put out that challenge to the youth of  the 1960s & 70s,,,AND we responded ! YES THERE WAS RAP back then ,and there was a street movement ,Even though the term "HipHop  hadn't been coined back then
a message from an old school poet the new school poets
to carry on the task of the movement for change
***********************************************************************************************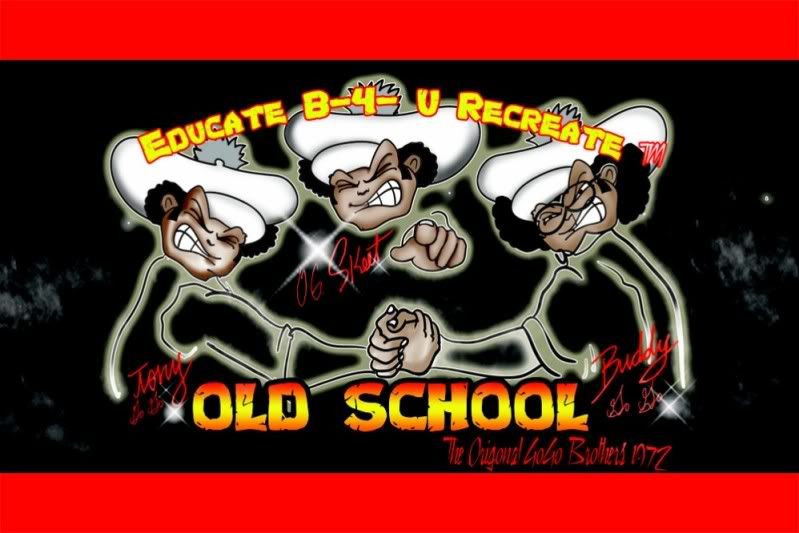 THE WORLDS FIRST SYCHRONIZED LOCKING GROUP "THE ORIGINAL GOGO BROTHERS 1971/1973
Watts streetmovement of Locking was not only inspired by Don Campbell, but by the social Issues of the 1960s. This movement produced the first group ever..  pictured Left to Right Tony "GoGo" Lewis, James "SkeeterRabbit" Higgins and Edwin "Buddy GoGo" Lombard..from the GoGo, YoYo and CoCo  Watts Brothers Family
 Tony GoGo Interviews   CLICK HERE to read more on the GoGo Brothers Page & view the Video
"WHAT DOES THE WORD FUNK OR FUNKY MEAN"…..People have confused these words for years (click here) By Og Skeeter Rabbit & Tony GoGo
*******************************************************************************
******************IT'S HERE******************
follow the progression and evolution
&
'THE LOCKERLEGENDS' NEW SKOOL INTERNATIONAL PAGE
"THE New School WORLD OF LOCKING PAGE"
This section of the website is currently under construction , It will have new school history
and International pages with information from countrys around the world
***********************************************************************************************
Memorial Tribute Page GREG CAMPBELLOCK JR.RIP
************************************************************************************************ The Legend "Jimmy Scoo B doo" Foster Click To go to Read More…
 "The GHETTO DANCERS" Steve "Sinbad" Crane 
Read Entire Interview with Video Click on this link  Jeffery Daniels letter to Lockerlegends
Lockerlegends interview
Thanks so much to all of you who were members of our lockerlegends forum , we discussed many topics of interest ,because we now have a great response on facebook we no longer have a forum but we still have great discussion in our facebook rooms
Join us on Facebook
TO CONTACT US:   Go to the form on the services & Products Page or send direct to Info@lockerlegends.net